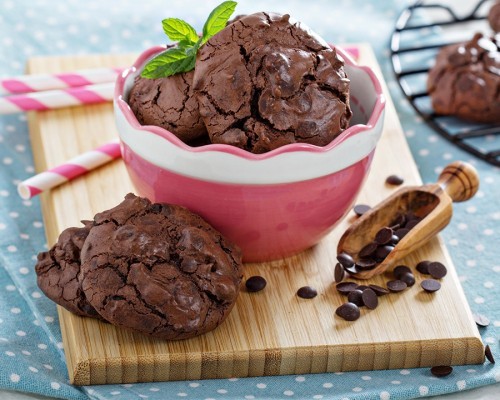 Chocolate Goji Berry Cookies
This recipe is for all the chocolate lovers out there that eat gluten-free. Chocolate cookies are truly the best, but chocolate gluten-free cookies are the best ever! Not all gluten-free cookies are the same, but when you add in chocolate chips and the goji berry, they become impossible to resist. Did you know that the goji wolfberry and cacao are both considered superfoods? Well, both of these ingredients are included in this recipe. The combination of cacao chocolate cookies with goji wolfberry will quickly become a favorite, and the fact that they are gluten-free cookies is a bonus.
Ingredients
½ cup brown sugar

½ cup cacao powder or cocoa powder

½ cup Nature's Eats Almond Flour

¼ cup buckwheat flour

¼ cup coconut flour

½ cup tapioca powder

2 tablespoons arrowroot flour

½ teaspoon salt

½ teaspoon baking soda

¼ teaspoon xanthan gum

2 eggs

½ cup coconut oil

½ cup coconut milk or almond milk

1 teaspoon vanilla extract

½ cup chocolate chips

¼ cup goji wolfberries
Instructions
Preheat oven to 325°F.

Sift brown sugar, cocoa powder, Nature's Eats Almond Flour, buckwheat flour, coconut flour, tapioca flour, arrowroot flour, salt, baking soda, and xanthan gum into a medium-size bowl.

Stir in eggs, coconut oil (softened or melted), coconut milk, and vanilla. Mix until it forms a dough.

Add chocolate chips and goji berries, or save goji berries for a topping.

Scoop batter 1 tablespoon at a time and place on parchment paper on a baking sheet.

Put cookies in the oven for approximately 12-15 minutes.

Remove cookies from baking sheet and place them on a cooling rack.

Serve and enjoy. Store in an airtight container.