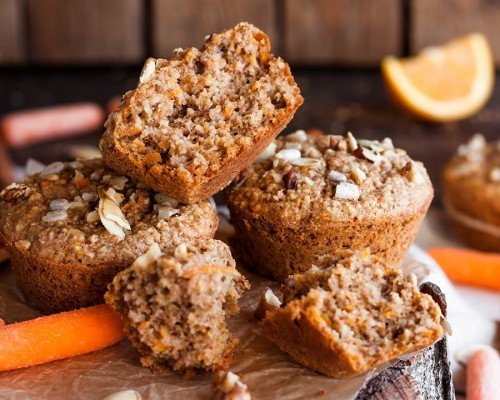 Carrot Apple Gluten Free Muffins
A common question you hear these days is, "Is that gluten-free?" With the recent discovery of how gluten can affect our overall health and well-being, it is always exciting to find gluten-free recipes. This gluten free muffin recipe is also perfect for vegan baking. Rather than using eggs, it calls for flaxseed as an egg substitute. You can also make these gluten free muffins with eggs if desired.
Ingredients
1½ flax eggs

¼ cup raw agave or maple syrup

1⁄3 cup or 1 very ripe mashed banana

¼ cup coconut oil or olive oil

½ cup apple sauce or 1 finely grated sweet apple

½ cup brown sugar

½ teaspoon sea salt

1½ teaspoon baking soda

1 teaspoon cinnamon

½ cup Almond Milk

1 cup shredded or grated carrots

1 cup gluten-free rolled oats

½ cup Nature's Eats Almond Flour

11⁄8 cup gluten-free all-purpose flour

¼ cup black walnuts or Nature's Eats English Walnuts

½ cup raw honey (optional)
Instructions
Preheat oven to 375°F. Prepare flax eggs (combine 1 tablespoon flaxseed meal plus 3 tablespoons water) and put it to the side.

Prepare muffin pan with liners or grease with coconut oil.

In a bowl whisk together the flax eggs, agave, mashed banana, and coconut or olive oil until fully combined.

Add in applesauce, brown sugar, sea salt, baking soda, and cinnamon, and continue to whisk to combine.

Stir in Nature's Eats Almond Milk.

Stir in grated carrots.

Add in oats, Nature's Eats Almond Flour and gluten-free flour and blend until combined.

Fill each muffin tin almost full and add crushed Nature's Eats Walnuts on top.

Bake for 30-35 minutes or until a golden brown. Muffins are done when a toothpick is placed in the center and comes out clean.

Remove the muffins from the oven and drizzle honey over tops. Cool for 15 minutes. Once they are completely cooled store them in an air-sealed bag or container. These muffins freeze nicely.