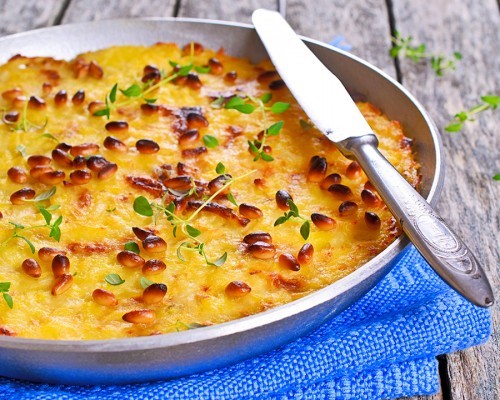 Butternut Squash Mac n Cheese
This healthy mac and cheese bake is gluten-free and almost dairy-free. To make it completely dairy-free you can always substitute the cheese for a dairy-free option or leave it out altogether. You can also use mung bean noodles to make this a gluten-free mac and cheese recipe, or you can use your favorite noodles or gluten-free noodles as shown in the recipe. There are always healthy options available for almost any recipe that you love.
Ingredients
2-3 cups gluten free pasta of choice

5 cups low sodium vegetable broth

1 small - medium butternut squash, peeled and chopped

3 sprigs fresh rosemary, plus 2 tablespoons fresh rosemary, chopped

1 cup coconut cream

¼ cup nutritional yeast (optional)

1 tablespoon olive oil

3-4 garlic cloves, minced

1 cup shredded cheddar cheese

¼ cup Nature's Eats Pine Nuts or Nature's Eats Sliced Almonds
Instructions
Preheat oven to 350°F. Spray a baking dish with non-stick coating and set aside. In a large pot of boiling water cook pasta al dente; drain and set aside.

In a large saucepan bring broth to a boil over medium-high heat; add squash and rosemary sprigs. Cook for 10-15 minutes until squash is tender. Drain, saving ½ cup of broth. Discard rosemary sprigs and place squash along with reserved broth, coconut cream, and nutritional yeast in a blender or Vitamix machine. Blend until smooth, then pour mixture into large bowl.

In a small skillet heat oil over medium-low heat. Add garlic; sauté for 5 minutes or until golden brown. Add chopped rosemary; sauté for 1 minute. Spoon over the bowl of squash mixture. Add pasta and ½ cup of cheese; stir gently to fully combine.

Spoon mixture evenly into baking dish. Top with remaining cheese and Nature's Eats Pine Nuts or Nature's Eats Sliced Almonds. Bake for 25 minutes, or until top becomes golden brown. Serve warm.