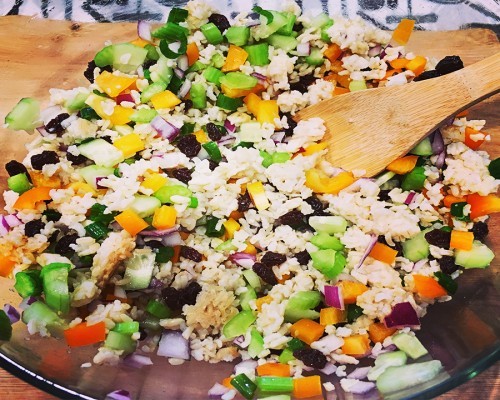 Brown Rice Vegetable Medley
This brown rice vegetarian medley is the perfect side dish for a picnic, party, lunch or dinner. In addition to the flavors and crisp lightness of this dish, it's full of nutrients and healthy fuel for your body.
Ingredients
2 cups spring water

¼ teaspoon sea salt

1 cup brown rice

¾ cup Nature's Eats Raisins

½ cup chopped red or yellow pepper

2 celery ribs, chopped

½ cucumber, chopped

¼ red onion, finely chopped

1 tablespoon chives

1 tablespoon olive oil

3 tablespoons lemon juice

2 tablespoons cider vinegar
Instructions
Boil rice with salt on the stove in a medium pot or rice cooker. Let rice cool down.

Combine the remaining ingredients with the chilled rice.

Toss everything together well so that the dressing is distributed evenly throughout the dish.

Chill and serve.