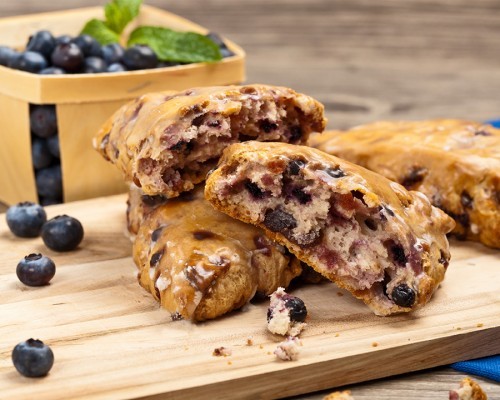 Blueberry Almond Flour Scones
Gluten-free breakfast recipes come in a variety of forms, but usually, scones are not the first things to come to mind. It's exciting to know that almond flour baking is available to make healthy breakfast scones, and can be enjoyed by those who are gluten-free and vegan. Vegan gluten-free recipes can be hard to come by because in many cases gluten-free recipes will call for eggs to act as the binder since the gluten is missing. Our Blueberry Healthy Breakfast Scones are one of those vegan gluten-free recipes that you can proudly serve to even the pickiest eaters. They have that scone-like texture and flavor, and no one would guess that it is gluten-free or vegan.
Ingredients
1 cup Nature's Eats Almond Flour

½ cup Nature's Eats Homemade Coconut Flour

½ cup arrowroot flour or tapioca flour

1 teaspoons baking soda

¼ teaspoon salt

1⁄3 cup Nature's Eats Dried Blueberries or fresh blueberries

2 eggs, beaten

3 tablespoon maple syrup or honey

1 teaspoon vanilla extract
Instructions
Preheat the oven to 350 degrees.

In a medium bowl whisk together the dry ingredients.

In a separate bowl mix the eggs, maple syrup or honey, and vanilla together. Add this mixture into the dry ingredients. Next, fold in the Nature's Eats Dried Blueberries using a spatula and mix ingredients to form a dough. Blend carefully to not crush the blueberries if you are using fresh blueberries.

Form dough into one thick disk then cut into 8 pie-shaped pieces.

Place each scone onto a parchment lined baking sheet. Bake for 15 minutes or until edges are lightly browned. Cool for 5 minutes before serving.

Store scones in an airtight container in the refrigerator for up to 7 days.