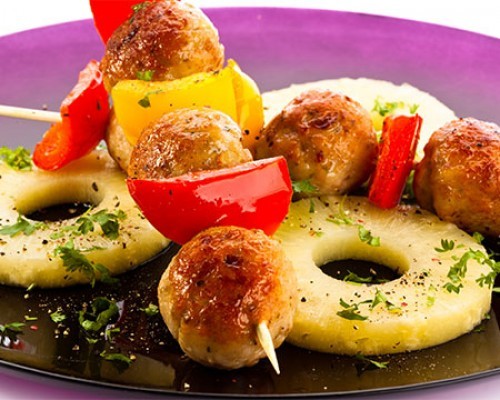 Bessie's Sweet and Sour Meatballs
Winner of the 2012 Nature's Eats Holiday Recipe Contest, this dish celebrates the heartiness of beef with our light-hearted cranberry and pineapple products.
Ingredients
15 pounds of lean beef, lean

20 eggs, slightly beaten

11⁄3 cups bread crumbs

10 tablespoon beef bouillon

10 tablespoon worscheshire sauce

1½ cups Nature's Eats Cranberries

1½ gallons water

3 cups Sparkling Cranberry juice

10 cups brown sugar

10 cups lemon juice

5 cups ketchup

5 tablespoon salt

1 small can pineapple chunks, drained

10 cups chopped/sliced red, yellow and green peppers

2 cups white onion, chopped

10 tablespoon cornstarch
Instructions
Combine Lean Beef, Eggs, bread crumbs, beef bouillon, and Worcestershire sauce and Nature's Eats Cranberries. Mix well and shape into 1¼ inch balls.

Brown the balls in a skillet over medium-high heat, remove from skillet and set them aside. Pour off fat.

In the same skillet (or jumbo pot) combine all remaining ingredients except peppers, onions, and cornstarch.

Stir well over medium heat for 5 minutes. Add meatballs and simmer uncovered for 45 minutes. Add peppers and onions, simmer 45 minutes then add cornstarch and heat thru.