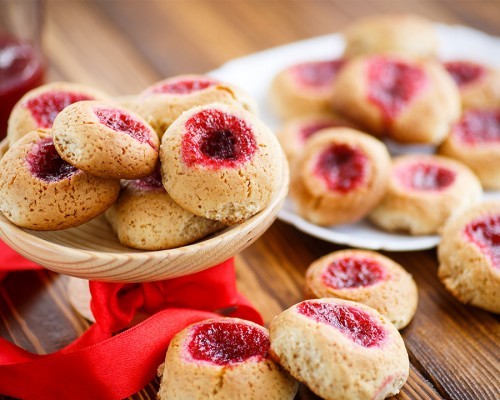 Berry Thumbprint Cookies
Gluten-free baking can be tricky depending on the recipe, but there are also so many easy gluten-free baking recipes available like these Gluten-Free Thumbprint Cookies. Many times when we are trying to convert a recipe into easy gluten-free baking recipes, there is a bit of testing that needs to be done for the perfect conversion. So with the intention of making things easier, we have come up with this Gluten-Free Thumbprint Cookies recipe. These are also a great healthy gluten-free snack as the sugar content is low and honey is used in place of traditional sugar.
Ingredients
2 cups Nature's Eats Blanched Almond Flour

¼ teaspoon salt

¼ teaspoon baking soda

1 tablespoon guar gum or arrowroot powder

1 egg

3 tablespoons coconut oil

2 tablespoons honey or 1½ tablespoons agave

¼ cup Nature's Eats Healthy Berry Jam or jam of your choice
Instructions
Preheat oven to 350°F.

In a food processor combine Nature's Eats Almond Flour, salt, baking soda, and guar gum or arrowroot powder.

Pulse in egg, coconut oil, and honey or agave until a dough forms. The dough will be thick and should stick together well.

Scoop batter one tablespoon at a time and roll into balls. Place on parchment paper on a baking sheet.

Use ½ teaspoon measuring spoon or your thumb to create an indentation in the center of each cookie.

Place ½ teaspoon of jam as filling in the center of each cookie.

Place in oven for 8-10 minutes or until golden brown. Do not over bake as the cookies burn easily. Remove cookies from cookie sheet and place on a cooling rack.

Serve and enjoy. Store in an airtight container.