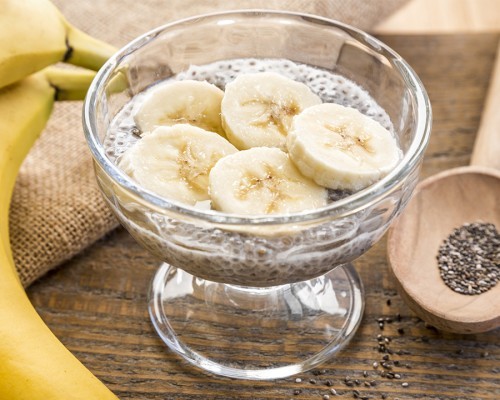 Banana Chia Seed Pudding
Chia Seed pudding is one of the simplest and fastest vegan or raw food recipes out there, with natural sweetness that makes it ideal for breakfast or dessert.
Ingredients
1 can (16 ounce) Coconut Milk

¼ cup chia seeds

4-6 Nature's Eats California Dates or 2 ounces of Raw Agave

1 vanilla bean or 1 teaspoon vanilla extract

½-1 teaspoon cinnamon

1⁄8 cup Nature's Eats Slivered Almonds

1 banana
Instructions
Place coconut milk, dates, and vanilla into a high powered blender like a Vitamix machine until completely liquified.

Pour in chia seeds and mix around until evenly dispersed throughout the milk mixture.

Place in refrigerator and let sit for 15-30 minutes, wherein it will begin to gelatinize.

Pour or scoop your serving into a bowl and then top it off with a banana, berries and your choice of nuts. Adorn with a sprinkling of cinnamon on top.

When you take your first bite of this pudding, it is almost impossible to believe it is actually good for you. The natural sweetness of the dates or agave make this the ideal breakfast or dessert, especially when combined with the satisfying texture and energy boost from the nuts. The sweetness of the banana along with the smoothness of the coconut milk and the gelatinized texture of the chia seeds makes this a perfect comfort snack at the end of a long workday as well. This is sure to impress even your pickiest eaters.