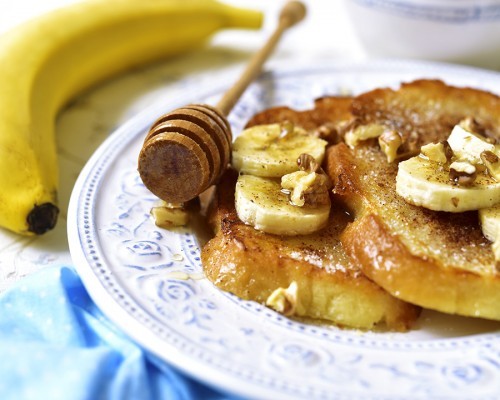 Banana Black Walnut French Toast
When making any french toast recipe you can easily turn it into gluten-free french toast. Simply use gluten-free bread rather than multigrain or white. You can also make your french toast dairy free french toast by using coconut or almond milk instead of traditional milk. Most french toast recipes are a sweet breakfast food. You can use a variety of ideas to make it really fun and create your very own recipe.
Ingredients
1 tablespoon coconut oil

2 ripe bananas, sliced

¼ cup black walnuts or Nature's Eats Walnuts (if you like it sweeter try Nature's Eats Pecans)

¼ cup raw honey

8 eggs

¼ cup coconut milk, almond milk or cream

1 teaspoon vanilla or 1 vanilla bean

½ teaspoon cinnamon

⅛ teaspoon nutmeg

Salt to taste

6-8 slices of your favorite bread (gluten-free bread is ok)

¼ cup maple syrup (optional)
Instructions
Heat coconut oil in a medium skillet. Add bananas and sauté for 3 minutes. Add Nature's Eats Walnuts and honey. Continue to sauté for another minute, then remove from heat. Place to the side to cool.

In a medium bowl mix eggs, then add coconut milk, vanilla, cinnamon, nutmeg, and salt. Mix until thoroughly blended, then pour into a shallow dish or pie plate.

Coat the inside of a nonstick skillet with cooking spray. Heat skillet over medium heat.

Take a slice of bread and dip into the egg mixture, thoroughly coating the bread on both sides. Place slice in skillet. Continue to add more slices, and cook for 1-2 minutes on each side or until done.

Top each slice with banana mixture and maple syrup. Serve immediately.