If you are following a gluten-free diet, the days of muffins, pastries, and cookies are far from over. Here's a simple recipe for gluten-free muffins that makes for a delicious on-the-go breakfast option. These high protein bites fit perfectly into a gluten-free meal plan, and use almond flour rather than traditional all-purpose flour for an added boost of nutrients.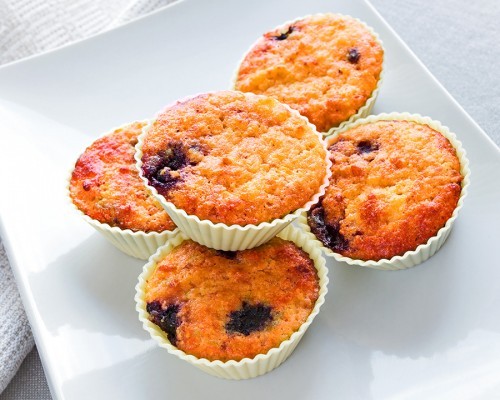 Apricot Blueberry Gluten Free Muffins
Easy gluten-free breakfast muffins can be made fairly quickly without too many complicated ingredients. These are high protein muffins because we replace traditional flour with almond flour and use four eggs.
Ingredients
2 cups Nature's Eats Almond Flour

1 teaspoon baking powder

3 tablespoons sugar or 2 tablespoons Splenda

4 eggs

½ tbsp coconut oil or butter

½ cup heavy cream or coconut cream

1 banana, mashed and very ripe

1 tablespoon lemon juice

1 teaspoon vanilla

½ cup Nature's Eats Dried Apricots, chopped

½ cup dried, frozen, or fresh blueberries
Instructions
Preheat the oven to 350℉. Grease a muffin pan or use paper cups as a liner. We recommend paper cups.

In one large bowl, mix Nature's Eats Almond Flour, sugar, and baking powder.

In a medium bowl mix eggs, coconut oil, coconut cream, banana, lemon juice and vanilla. Use a pastry blender, and then a whisk until everything is completely smooth.

Pour liquid mixture into dry mixture and mix until well combined. Fold in Nature's Eats Dried Apricots and blueberries until evenly distributed.

Pour batter into 12 muffin tins until full, almost to the rim.

Place in the oven and bake for 25-35 minutes or until you can easily remove a toothpick clean from the center of each muffin and they are slightly golden brown on top.