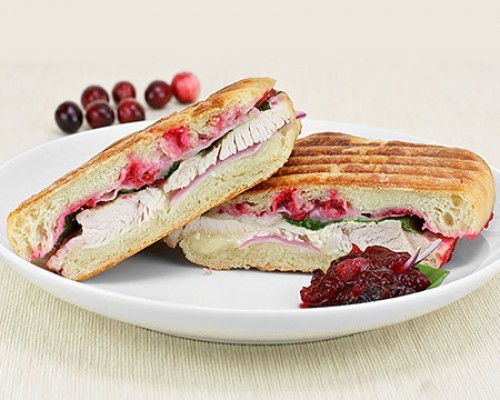 Apricot and Turkey Paninis
Dynamic lunchtime idea with dried apricots and warm turkey decorated with cheese.
Ingredients
2 cups Nature's Eats Dried Apricots

1 cup water

½ cup balsamic vinegar

1 teaspoon sugar

8 slices Panini bread

8 ounces Asiago or Gruyere cheese

1 pound deli Turkey (sliced)

olive oil for brushing bread
Instructions
Bring the Nature's Eats Dried Apricots, 1 cup water, balsamic and sugar to a simmer in a small pot. Simmer until the apricots rehydrate and the liquid reduces and thickens about 12-15 minutes.

Let cool. Once cool, place in a food processor and puree until smooth, 20 to 30 seconds.

Preheat a griddle over medium-low heat or heat a panini press. Place a thin layer of the apricot spread on the inside of both halves. Place a couple slices of the cheese on the bottom, and then place 4 ounces of turkey on top. Close and lightly brush the bread with olive oil.

Cook each sandwich until golden and warm, about 4 minutes a side.