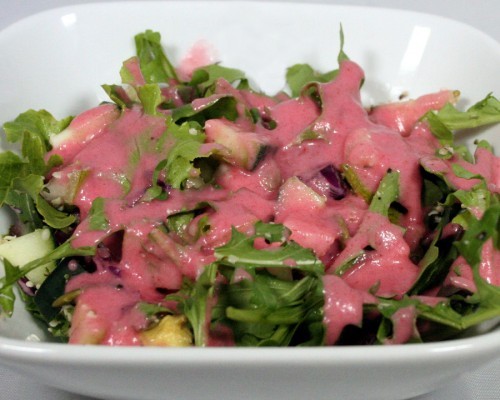 Apple Pear Salad
It seems like every season has different salad selections that will include flavors and foods that are at peak season flavor. This fresh summer salad could also be a crisp fall salad. In climates like southern California, you could prepare this Apple Pear Salad almost any time of year. The dressing for this Apple Pear Salad salad makes it an incredibly healthy salad with natural ingredients rather than additives and preservatives.
Ingredients
1 ½ cups baby arugula

1½ cups mixed baby greens

½ cucumber, diced

¼ cup thinly sliced purple cabbage

¼ cup pepitas Nature's Eats Natural Pumpkin Seeds

1 avocado

½ medium ripe apple

½ medium ripe pear

¼ cup diced jicama

2 Tbsp. hemp seeds

 

Dressing Ingredients

½ medium ripe apple

½ medium ripe pear

6-8 dates

2 tablespoons raw agave or honey

2⁄3 cup spring water

¼ cup olive oil

4 tablespoons apple cider vinegar

3 tablespoons lemon juice

2 tablespoons lime juice

salt & pepper to taste
Instructions
Place all salad ingredients into a large salad bowl.

Place all dressing ingredients into a high powered blender like a Vitamix. Start on low and slowly work up to high. Run for 3-5 minutes until completely liquified.

Transfer dressing into a serving container.

Store dressing in refrigerator for up to 1-2 weeks.