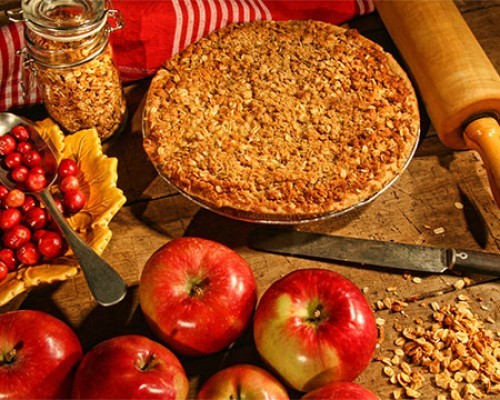 Apple Cranberry Currant Crumble Pie
A holiday twist on a classic apple pie with the fresh tartness of cranberries.
Ingredients
¼ cup brandy

¼ cup dried currants

1½ cups Nature's Eats Dried Cranberries, fresh cranberries or thawed frozen cranberries, rinsed and drained

1 cup granulated sugar

6 tablespoons plus 1 cup of all-purpose flour

1 tablespoon finely grated orange zest

¾ teaspoon ground cinnamon

1⁄8 teaspoon nutmeg

¼ teaspoon salt

6 cups sliced peeled Granny Smith apples (about 2¼ pounds)

10-inch pie pastry for a single-crust pie

2⁄3 cup firmly packed brown sugar

½ cup (1 stick) unsalted butter, cut into chunks
Instructions
Combine brandy and currants in a small bowl. Let sit for at least an hour, until currants are plump.

Preheat oven to 375°F. In a large bowl mix 1 cup white sugar with 6 Tbsp flour, orange zest, cinnamon, nutmeg, and salt. Use a slotted spoon to transfer currants from brandy (reserve the brandy) to the sugar mixture. Add Nature's Eats Cranberries and apples and mix well. Pour filling into unbaked pie pastry and drizzle with the reserved brandy.

In another bowl mix 1 cup flour with ⅔ cup of brown sugar. Add the butter and cut in with a pastry blender or rub with your fingers until the mixture forms small lumps. Sprinkle topping over the filling. Set pie in a foil-lined 10 x 15 inch baking pan (to catch the juices).

Bake on bottom rack until juices bubble, 55 to 65 minutes. If pie browns too quickly, cover loosely with foil. Set pie on rack to cool, uncovered, for 2 to 3 hours.