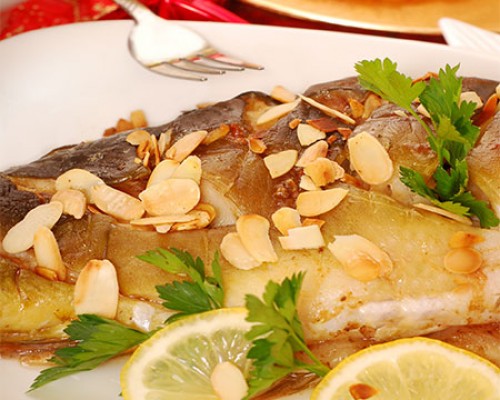 Almond & Lemon Crusted Fish with Spinach
Need fresh ideas for what to cook during Lent? Try this nutritious and delicious recipe with our Nature's Eats Sliced Natural Almonds!
Ingredients
Zest and juice of 1 lemon, divided

½ cup Nature's Eats Sliced Natural Almonds, coarsely chopped

1 tablespoon finely chopped fresh dill or 1 teaspoon dried

1 tablespoon plus 2 teaspoons extra-virgin olive oil, divided

1 teaspoon kosher salt, divided

Freshly ground pepper to taste

1¼ pounds cod or halibut, cut into 4 portions

4 teaspoons Dijon mustard

2 cloves garlic, slivered

1 pound baby spinach

Lemon wedges for garnish
Instructions
Preheat oven to 400°F. Coat a rimmed baking sheet with cooking spray.

Combine lemon zest, Nature's Eats Sliced Natural Almonds, dill, 1 tablespoon oil, ½ teaspoon salt and pepper in a small bowl. Place fish on the prepared baking sheet and spread each portion with 1 teaspoon mustard. Divide the almond mixture among the portions, pressing it onto the mustard.

Bake the fish until opaque in the center, about 7 to 9 minutes, depending on thickness.

Meanwhile, heat the remaining 2 teaspoons oil in a Dutch oven over medium heat. Add garlic and cook, stirring, until fragrant but not brown, about 30 seconds. Stir in spinach, lemon juice and the remaining ½ teaspoon salt; season with pepper. Cook, stirring often until the spinach is just wilted, 2 to 4 minutes. Cover to keep warm. Serve the fish with the spinach and lemon wedges, if desired.
Notes
Tip: Overfishing and trawling have drastically reduced the number of cod in the U.S. and Canadian Atlantic Ocean and destroyed its sea floor. For sustainably fished cod, choose U.S. Pacific cod or Atlantic cod from Iceland and the northeast Arctic. For more information, visit Monterey Bay Aquarium Seafood Watch at seafoodwatch.org.