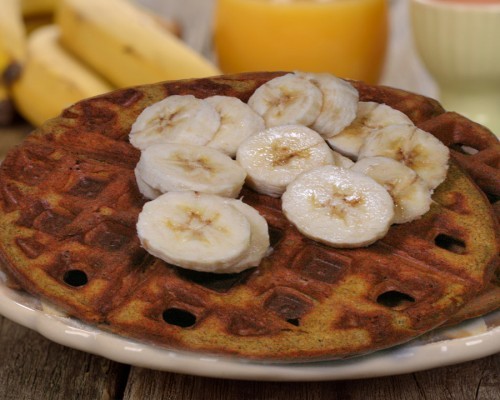 Almond Flour Protein Waffles
Did you ever think that you could find healthy waffles to eat for breakfast? Well, these protein waffles are not only healthy waffles, but they can also be part of great breakfast ideas for a gluten-free diet. These delicious waffles with almond milk are made with almond flour, making them terrific gluten-free foods for breakfast. Protein waffles are a powerful way to start your day, filling your body up with good nutrition, healthy fats, and protein to give you the energy you need to get your day going.
Ingredients
Dough Ingredients

1 cup Nature's Eats Almond Flour

2 tablespoon arrowroot flour

¼ teaspoon salt

1 teaspoon baking powder

3 eggs

2 tablespoons olive or avocado oil

1 teaspoon vanilla

1 cup coconut cream, almond milk or heavy cream

½ teaspoon cinnamon or pumpkin spice

 

Optional Topping Ingredients

½ cup berries or banana

¼ cup Nature's Eats Walnuts or Nature's Eats Almonds

¼ cup maple syrup or honey

3 tablespoons coconut oil or butter
Instructions
Preheat waffle iron and spray with oil.

In a large bowl mix Nature's Eats Almond Flour, arrowroot flour, salt and baking powder.

Add eggs, olive oil, vanilla, cream, and spices until completely mixed. I like to use a whisk or a fork to mix all these ingredients together making sure there are no lumps.

Pour mixture into waffle iron until ¾ of the way full, making sure not to overfill. Close the waffle iron and allow to cook.

The waffles are done cooking when the steam lessens.

Remove waffle from waffle iron and top with your favorite toppings. We suggest your favorite fruit, coconut oil and a little bit of honey or maple syrup.

Freeze any leftovers for quick and easy healthy waffles for breakfast, lunch, or dinner.