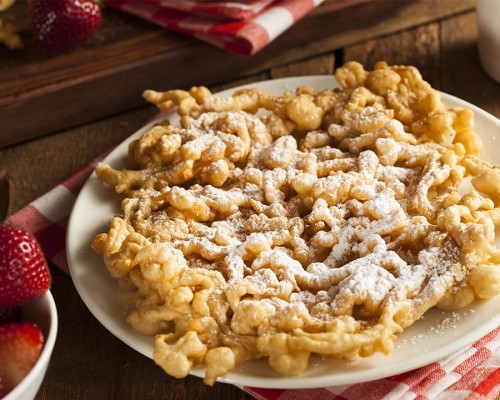 Almond Flour Funnel Cake
Usually, the batter for funnel cake is made from traditional flours that contain gluten, but we've changed things up and have made a Gluten-Free Funnel Cake recipe. Funnel cakes are an old-time tradition usually enjoyed at a state fair or theme park. With so many people discovering the negative effects to their health that comes from gluten consumption, some favorite desserts like funnel cake are immediately taken off the table.
Ingredients
1 cup gluten free flour

¼ cup Nature's Eats Almond Flour

½ cup tapioca flour

2 tablespoons sugar

1 teaspoon baking powder

½ teaspoon salt

¼ teaspoon xanthan gum

2 tablespoons powdered sugar

1 teaspoon nutmeg

1 cup Nature's Eats Almond Milk

2 eggs, beaten

1 teaspoon vanilla

1 cup coconut oil
Instructions
Mix all dry ingredients together (except powdered sugar), then stir in almond milk, vanilla, and eggs.

Allow mixture to thicken for 10 minutes before cooking.

Pour 1 inch of coconut oil into a pot with 4 inch sides. Let oil heat to 375°F. Pour batter into a funnel or squeeze bottle.

Begin to squeeze the batter into oil in a slow and constant speed. Do this in a swirling pattern, making about 4 inch rounds.

Fry cake for 2 minutes or until golden brown.

Remove funnel cake from oil and drain on paper towels. Top with powdered sugar and serve.