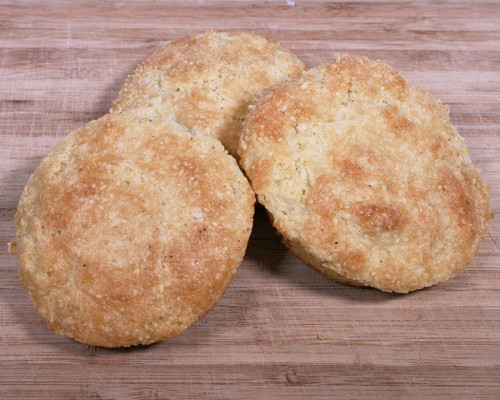 Almond Flour Cheddar Biscuits
If you have never had cheese biscuits you are truly missing out. Cheddar biscuits are a perfect treat all by themselves, or with breakfast, lunch, or dinner. When you are seeking recipes for gluten-free treats, gluten-free biscuits are always a great option. The very best gluten-free biscuits are made with almond flour and cheese. They are light and fluffy like a traditional biscuit, absolutely delicious, and most importantly they are easy to make. Not all gluten-free treats are alike, in fact, in most cases when people think of gluten-free treats they immediately think of sweet gluten-free treats like cookies, muffins, and pastries. Let's enjoy savory gluten-free treats like these Gluten-Free Cheese Biscuits instead!
Ingredients
1½ cups Nature's Eats Almond Flour

1½ teaspoons baking powder

¼ teaspoon salt

¼ teaspoon pepper

1⁄3 cup shredded cheese (mozzarella or cheddar)

¼ cup heavy cream or Nature's Eats Dairy Free Cashew Cream

3 tablespoons cold butter, diced, or coconut oil

1 egg
Instructions
Preheat the oven to 350°F.

In a medium bowl whisk together dry ingredients.

Using a pastry cutter or two table knives, cut the butter into the Nature's Eats Almond Flour until it becomes crumbly.

Make a hole in the center, and add the cream and egg. Lightly mix it together.

Form dough into 4-5 big balls or 6-8 smaller balls and lay on a cookie sheet lined with parchment paper or place on a cellophane biscuit pan.

Bake for 20 minutes or until tops are slightly golden brown. Allow to cool for 5 - 8 minutes, and then remove and enjoy or store in an airtight container in the refrigerator.