Goji Berries – A Nutritional Powerhouse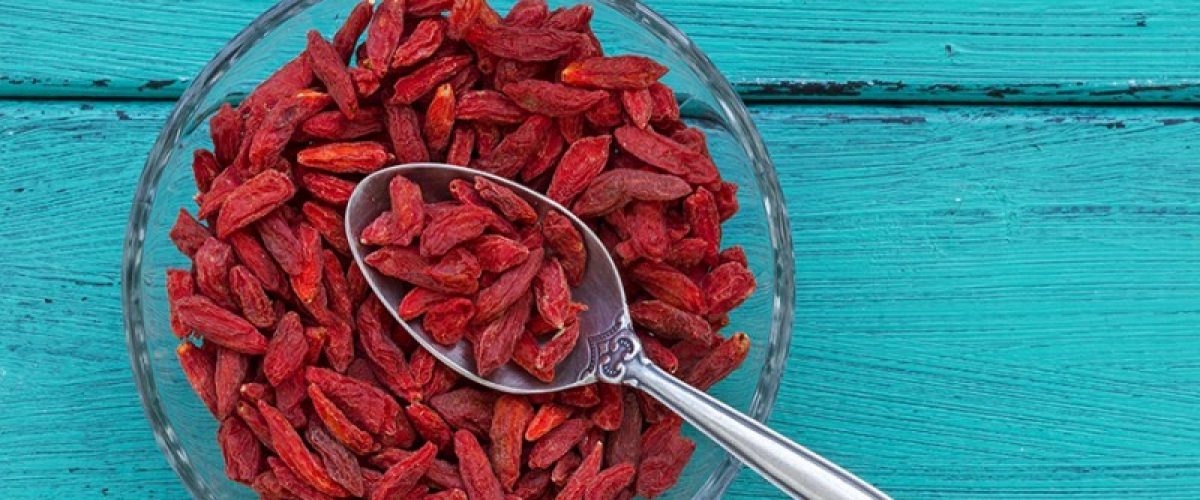 Goji berries are highly recommended for longevity, anti-aging and health strengthening.
In Tibet, goji berries are considered a medicinal food. The health benefits of goji berries were first recognized at least 1,700 years ago by the Tibetans, as they used them to treat kidney and liver problems, lower cholesterol and blood pressure, cleanse the blood and alleviate numerous other conditions including skin rashes, allergies, chronic liver disease, diabetes, tuberculosis, and eye problems.
Goji berries have also been referred to as the "fruit of immortality" in several Chinese myths. Goji berries remain popular, not only for their healing properties but also their preventative effects; they are highly recommended for anyone interested in longevity, anti-aging and health strengthening.
There are so many health benefits of goji berries, which is why they are one of the top ten superfoods out there. They contain 18 amino acids, including the eight essential amino acids. The essential fatty acids help promote body fat loss and regulate hormones. Goji berries also have 21 trace minerals including zinc, calcium, germanium, selenium, and phosphorus. Moreover, they are one of the highest sources of antioxidants and several vitamins, including A, B, C, and E. Goji berries are nutritionally dense, with 15 times more nutritional iron than spinach.
GOJI BERRIES ARE A SUPER HEALTHY FOOD
They are called the world's most powerful anti-aging food. On the ORAC scale, which measures the antioxidant levels of food, goji berries are number one. They also contain anti-inflammatory, antibacterial, anti-fungal compounds. Goji berries are considered not only a superfood but a medicinal food. They can have such a medicinal impact on the body that it is recommended to consult a doctor if you are on any medications before making goji berries a part of your day to day.
While there are several different ways you can consume goji berries, snacking on them in a homemade trail mix is a very simple way to get their benefits. Others enjoy adding the berries to their beverages for a quick and easy health boost. For drink ideas, you can soak the goji berries and use them in smoothies blended with the remaining goji water, or you can even make a pure Goji tea. Just like with all superfoods and herbs, a little goes a long way. Superfoods and Superherbs are both highly dense in nutrition; therefore, it only requires small quantities to reap the medicinal benefits.
Introducing goji berries to your diet regularly can not only support your body in healing but also serves as great preventative health care. There are so many benefits from these little berries due to their low levels of sugar, high fiber, antioxidants, and source of vitamins and minerals. It has the perfect combination of nutrition to support high vitality, anti-aging, and longevity.
PROVEN HEALTH BENEFITS
These are not all theories, and there have been specific studies that have concluded many other benefits as well. In one study published in the Journal of American Academy of Optometry, researchers found that goji berries can help protect against macular degeneration. In 2008, there was a study published in the Journal of Alternative and Complementary Medicine wherein participants ate goji berries for 14 consecutive days. Almost 100% of the participants reported a noticeable difference in their energy levels and digestive function. In 2014, there was a paper published in The Journal of Nutrition noting that goji berries could help fight off the flu in vaccinated elderly patients who nevertheless contract the illness.
Goji berries are a superfood and all the goji berry side effects are for the better. They are not only on the list of superfoods, but they are also on one of the top ten superfoods. One of the things they are popular for is the goji berries nutritional value. The immense health benefits of goji berries are reason enough to add them to your diet. Goji berries are one of the super healthy foods that taste delicious and can be easily added to many drinks/dishes you already enjoy.
Written by Lisa Saremi