Baking with Almond Flour | Waffles & Pancakes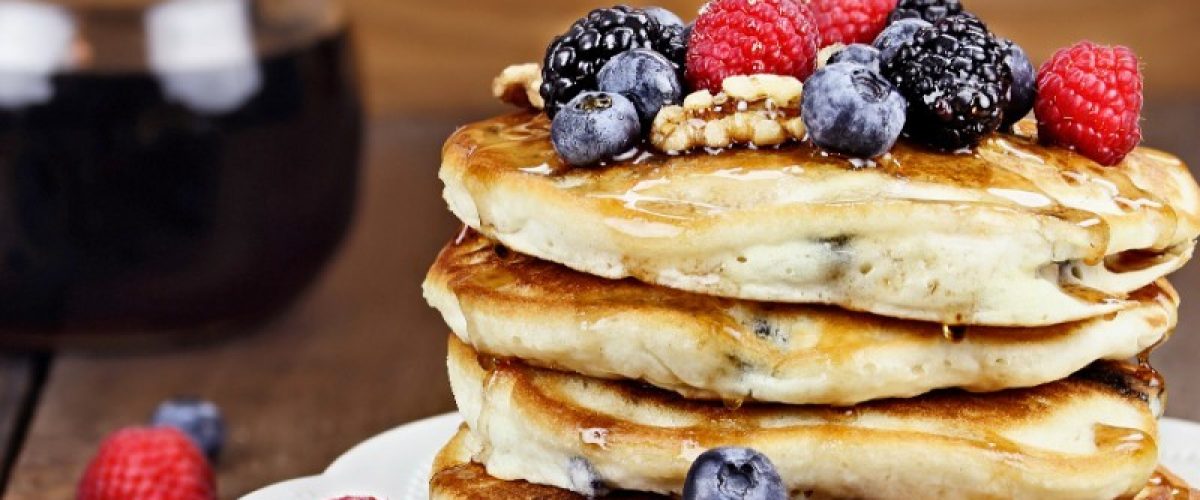 A Gluten Free Breakfast with Almond Flour
There are many types of gluten-free breakfast options, and incorporating Nature's Eats Almond Flour into your meal planning is a fun and creative idea that can support your decision to eat gluten-free foods. It allows you to bring in more baked goods and other delicious options like waffles and pancakes.
When using almond flour to make gluten-free breakfast options like waffles and pancakes the conversion ratio for flour is almost identical. While experimenting in the kitchen with gluten-free cooking and baking, specifically for pancakes and waffles, there are two things that you have to decide right out of the gate:
What is most important to you? Nutrition? Texture? Calories? Flavor?
How dense do you want your waffles or pancakes to be?
Of course, it makes sense that almond flour is denser than many other flours because it comes from natural almonds. There are countless benefits of cooking with almond flour, but it does require making modifications at times to get similar results that we get when cooking with traditional flours, pancake, and waffle mixes. If you have read any of our other Baking with Almond Flour blogs, you have learned more about gluten-free cooking and how to make those adjustments specifically for a variety of foods. These varieties include cookies, biscuits, pizza dough, scones, muffins, and more. Some of the same principles will apply here when making waffles and pancakes.
When it comes to making gluten-free breakfast foods on the go, waffles and pancakes are great options since they are usually delicious even if enjoyed as leftovers. I have found that when you make them with almond flour, sometimes you don't even need to add the extra toppings since the almond flour already has so much flavor. Of course, each person is different, and so you will learn how to make various modifications based on your tastes and preferences when following a gluten-free meal plan.
The other thing I noticed almost instantly when enjoying the waffles and pancakes is that you will have fewer cravings, making it more likely to consume less. Now, this is very exciting news as most of us battle with taming the overeating monster inside. The reason why this happens when eating gluten-free breakfast foods is that the almond flour and egg combination makes them much more filling. This combination along with the increase in protein helps satiate you, fill you up, and also reduces the number of carbohydrates and sugar that the body has to process.
Our recipes for almond flour waffles and pancakes are paleo-friendly, as well as recipes that are much higher in protein and healthy fats. Of course, when enjoying any gluten-free protein breakfast or even salad, we must be mindful of the add-ins as well as the toppings. These things can take an otherwise healthy gluten-free breakfast and turn it into a meal that may qualify for a gluten-free meal plan, but it may not be considered a healthy gluten-free breakfast.
One of the common reasons to make your pancakes and waffles with almond flour is because it helps reduce the amounts of sugar and carbohydrates which we all know turn into the kind of fat we most likely are not seeking. By adding in the healthy fat from the almond flour and reducing the saturated fats, we support the body in how it metabolizes these delicious gluten-free breakfast treats. By reducing sugar and carbohydrates and also increasing the levels of protein in this gluten-free breakfast option makes the recipe, not just gluten-free, but more of a gluten-free protein breakfast.
Of course, when you are following a gluten-free meal plan you are looking for all kinds of ways to keep on enjoying some of your favorite dishes. I feel like we are so fortunate to have things like almond flour to give those that have gluten sensitivities alternative options. The more we learn about nutrition and what is healthy for our bodies the easier it is to appreciate the use of alternatives while baking and cooking with almond flour. We can make minor adjustments in many recipes to increase the levels of nutritional value and to support our bodies in receiving healthy benefits while still enjoying some of our favorite foods.
When you are making waffles using almond flour, you will most likely be using a waffle iron. In my recipe experimentation, I found that allowing the batter to cook a little longer than you might with a traditional waffle batter will help ensure that they come out easily. But it is just as important to make sure you do not overcook or burn the waffle. Not everyone has a waffle iron, and we all know that pancakes are the next best thing to waffles. You may also notice when making pancakes they need to be watched closely to find the perfect cooking time.
When cooking with almond flour sometimes we have to make adjustments in the conversion ratio, but the other area that we need to pay attention to is the time we are baking or cooking our dishes. Almond flour can easily burn but also tends to require a little more time to prepare. One thing that helps is being aware of how the binder ingredients you are using react in the recipe, and what modifications are needed when using them. I found that eggs work very well. However, if someone is not able to use eggs, there may be slight changes when using egg substitution.
Breakfast is one of my favorite meals. As a kid growing up one of my favorite treats was when my mom would make waffles and pancakes. When I realized that I am not gluten intolerant but rather gluten sensitive I was so sad that these were now options I could not have. I can't tell you how excited I was when I started to learn how to bake with almond flour and cook with it as a gluten substitute.
Now I love making almond flour waffles and pancakes for my mom as a way to give back to her for all the times she made breakfast for me as a child. She is not gluten-free. However, because she is battling pre-diabetes she greatly appreciates being able to enjoy almond flour waffles with berries knowing that they are much lower in carbohydrates and sugar. So rather than waffles and pancakes being something she can't enjoy, she can indulge now and again and feel good about what she eats.
Once you make your almond flour waffles and pancakes, you may find that it is a gluten-free breakfast option you want to enjoy quite often. You can make them in batches and then have gluten-free breakfast foods on the go, ready when you are. This makes life so much easier since our lives are usually fast and busy. So try using almond flour to make waffles and pancakes today. Try them out with your favorite toppings and feel good about making choices that are good for your body and health, and also delicious.
Written by Lisa Saremi