Baking with Almond Flour | Biscuits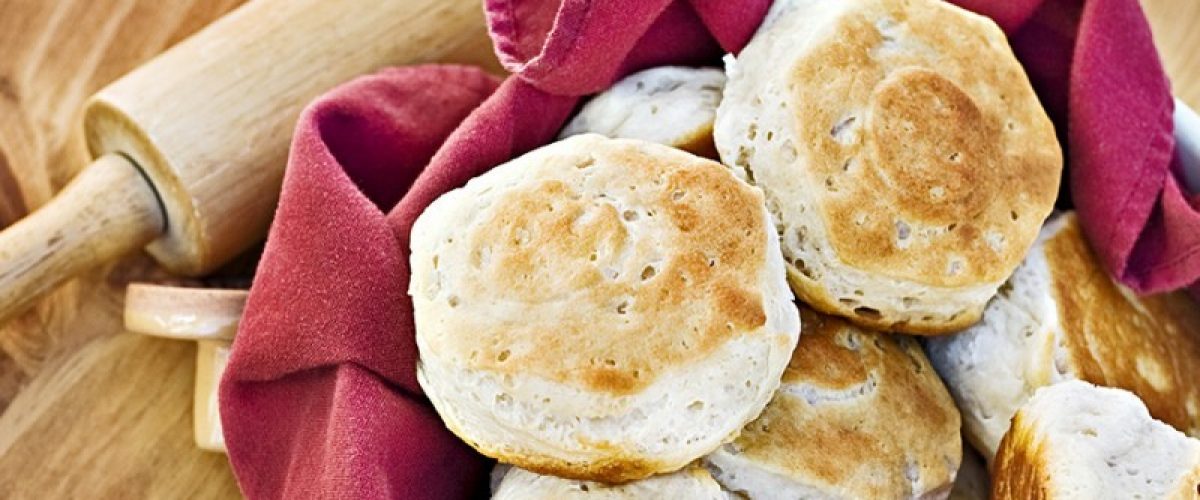 Gluten Free Biscuits with Almond Flour
Who doesn't enjoy a yummy biscuit with some eggs, with gravy, or your favorite soup? In days before gluten sensitivities were even a reality for me, I remember enjoying some of the best homemade biscuits I had ever had while living in the south. They were buttery, flaky, and almost addicting they were so good. They were something I missed when I started to follow a gluten-free lifestyle, but now with almond flour baking, they have made their way back into my life.
With almond flour baking and almond meal flour recipes we will not be using yeast, so to get the light and airy texture we must make some adjustments. Not all yeast has wheat, but when we make gluten-free baked goods in general, by removing the gluten or the wheat and yeast combo, we have to find ways to get the "rise" that we need. Let's talk about some things you can do to help generate the rise we're looking for when making different almond meal flour recipes.
Making biscuits is slightly different than making bread because we are not just looking for a light and fluffy texture, we are also hoping for a flaky texture. I remember while living in the south, I was being taught to make homemade biscuits. It was emphasized that it was important to use shortening or butter and milk, as well as flour. The perfect combination for a health disaster, but taste bud euphoria. So when I decided to find the best way to make healthy gluten-free biscuits using Nature's Eats Almond Flour, I was also challenged with all those lessons that my friend's sweet grandmother taught me in the south.
There was so much to learn in this process as I had to learn why yeast brings a rise in bread and other baked goods. I discovered that although this has an impact on almond flour baking across the board, it was a bit more important when making almond flour bread. To find out more about this, read the series on Baking with Almond Flour: Breads.
So, back to biscuits made with almond flour baking. I did have to come to accept that they would never be as light and flaky as they were when I was in the south, but there could certainly be a compromise to making healthier gluten-free biscuits that I could enjoy versus not enjoying biscuits at all.
While experimenting with making biscuits, I did find that the biscuit recipes using almond flour came out more dense and hearty. If you note on the variety of biscuit recipes below, each recipe has a different amount of almond flour and alternative gluten-free flour combinations. The Almond Flour Cheddar Biscuits are the heaviest biscuits, the Gluten-Free Honey Biscuits have a medium density, and the Basic Gluten-Free Biscuits are the lightest and flakiest in texture.
The main difference between these three recipes, outside of the flavoring, is the amount of almond flour used, but also what alternative gluten-free flour is being used. For the Gluten-Free Honey Biscuits, Coconut Flour is paired with the almond flour. Coconut flour, just like almond flour, has a hint of sweetness. Although it is lighter than almond flour, it is slightly heavier than most other gluten-free flours. I used a combination of almond flour and tapioca flour for the Basic Gluten-Free Biscuits as an example of the lighter and flakier biscuit.
You may also notice that with the Almond Flour Cheddar Biscuits I used baking powder, and with the Gluten Free Honey Biscuits I used baking soda. When you combine an acid with a base, the reaction helps to make your almond flour baking raise. So with the Basic Gluten-Free Biscuits recipe, I added 2 teaspoons of apple cider vinegar to create this reaction to help generate CO2. The CO2 helps the biscuits rise and also creates bubbles that leave the baked goods slightly lighter in the way they would come out when making traditional baked breads and biscuits. That is the typical reaction of gluten combined with yeast.
The journey of almond flour baking has been a tremendous one. I used to experiment with gluten-free baking, trying out different almond meal flour recipes. I have had luck on my side, and in most cases, the recipes would turn out ok. They didn't always look pretty, but most often they tasted good. This process of experimenting with the intent of figuring out what the little tips and tricks are when making cookies, muffins, biscuits, waffles, pancakes, bread, and more have taught me about the alchemy of baking.
I never was great in the kitchen, and neither was my mother. It was an ongoing joke with the family. It was honestly the pull for more healthful food choices in my life that led me to learn more about how to cook. It was beyond my wildest imagination that I would one day be a blogger and recipe developer, making almond meal flour recipes and gluten-free biscuits.
Almond flour baking has made cooking a little less intimidating. I have found that the recipes are a bit more simple and easier to maneuver. In this particular series, the alchemy of it all began to click. I had to research to understand why certain ingredients are used and their purpose in each recipe. Fortunately, there was also a wealth of information out there to help me understand how other ingredients can be used to replicate the same effect.
In conclusion, whenever you add more almond meal flour recipes into your diet you want to remember that the foods have more density and more calories. We are so used to consuming lots of baked goods using traditional recipes and flours, but as we make the switch to eating more almond meal flour recipes, it will benefit us to slow down just a little while eating. The good news is that these recipes will make you feel full more quickly without eating a lot.
We encourage you to make all three of these biscuit recipes and then determine which one is your favorite. Now that you understand the reasoning behind each recipe's ingredients, you may want to mix things up and come up with a combination that you prefer. If you do, please share your experiences and thoughts with us as we would love to hear your ideas.
Written by Lisa Saremi