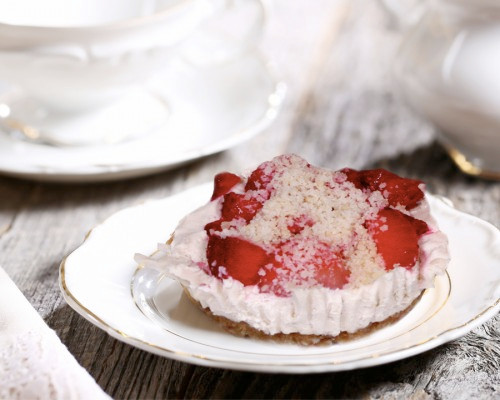 Raw Strawberry Cheesecake
If you are looking for an easy vegan cheesecake recipe, look no further! This is a gluten and lactose-free cheesecake, and it is one of those raw desserts that you can enjoy even if you are a picky eater. In addition to its being gluten and lactose-free, you may almost consider it guilt-free. And unlike other raw vegan desserts, this recipe is super easy to prepare.
Ingredients
Crust Ingredients

1 cup Nature's Eats Almond Flour

¼ teaspoon salt

½ cup Nature's Eats California Dates, at room temperature

Filling Ingredients

1 tablespoon grated lemon zest

1 lemon, juiced

1½ cups Nature's Eats Raw Cashews

1⁄3 cup filtered water

¼ cup liquid coconut oil

2 tablespoons vanilla

Topping

2 cups strawberries, thinly sliced

A drizzle of honey or raw agave (optional)
Instructions
Make the crust first by combining the almond flour and salt in a mixing bowl. Use your hands to turn almond meal and dates into a dough.

Press the dough into a pie plate or cupcake holders in a muffin pan as thinly as you can around the bottom and up the sides of the pan. If you are using a muffin pan, you have the option to not use a crust at all to make mini cheesecake bites.

Make the filling by combining the zest, lemon juice, cashews, water, coconut oil, and vanilla in a high power blender like a Vitamix machine until completely smooth.

Fill the pie pan to the top of the crust and refrigerate or freeze for 1-2 hours allowing the filling to become firm.

Once firm and you are ready to serve, thinly slice strawberries on top and add a drizzle of honey or agave.

The cheesecake will remain fresh in the refrigerator for up to 5 days without toppings.