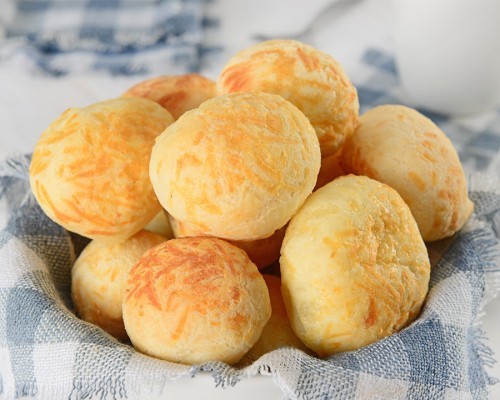 Brazilian Cheese Bread Bites
A person can't travel to Brazil without falling in love with the Brazilian Cheese Bread bites. This bread is extraordinary, and we have created a recipe for Brazilian Bites without wheat. Our recipe is a spinoff of the original recipe, and our Cheese Bread Brazilian Bites include a base of almond flour which gives them an extra added flavor you won't be able to resist.
Ingredients
2⁄3 cup unsweetened coconut milk

1⁄3 cup olive oil or ghee

1 egg at room temperature

½ teaspoon salt

1 cup tapioca flour

½ cup Nature's Eats Almond Flour

½ cup parmesan cheese, or any cheese of your choice
Instructions
Preheat the oven to 425°F and line a baking sheet with parchment paper.

Place flour in a bowl and set aside.

In a sauce pan bring milk, oil or ghee, and salt to a boil.

Pour milk mixture over flour, then mix.

Let cool for 10 minutes.

Add in cheese and eggs and mix together until full combined.

Shape dough into 1½-2 inch balls, then set on lined baking sheet 2 inches apart.

Place in preheated oven and decrease temperature to 375°F.

Bake for approximately 22-25 minutes until puffy and golden.

Allow to cool, then cut up into bite-size pieces and serve.